anne waldman (usa)
dichterin, performancekünstlerin, mitbegründerin (gemeinsam mit allen ginsberg) der jack kerouac school of disembodied poetics in boulder, colorado
kurzklasse: "dakini poetics"
in the tibetan buddhist tradition the "dakini" is a sky-walker, a feminine energy principle of shapeshifting playfulness and exchange who keeps you on your toes. using the image of the "dakini" as a metaphor for our creative imagination, we will explore some "experiments of attention", drawing on dream, memory, the de-centering of the first person "I", and consider collaboration and performance as modes of working in the world.
termine:
unterrichtseinheit am
di, 18.9.2007: 13.30 – 17.30 uhr
ort: sfd – schule für dichtung, mariahilferstr. 88a / stiege III / 7, 1070 wien
18.9., 19.30: lesung und vortrag zur lehr- und lernbarkeit von literatur im rahmen der "special guest series" im büro der schule für dichtung, mariahilferstr. 88a/stiege III/7, 1070 wien, eintritt frei
hinweis:
23.9., 11.00: anne waldman & pia palme "colors in the mechanism of concealment" (usa/a/ch), info & tickets: porgy & bess, wien
teilnahmegebühr: 40,- €
unterrichtssprache: englisch
anmeldeformular zum download (begrenzte teilnehmerzahl)
anne waldman
poet, performer, editor, arts administrator, distinguished professor of writing and poetics. born in 1945 in millville, new jersey, raised in new york city. former director of the poetry project at st. marks church-in-the-bowery. co-founder with allen ginsberg of the jack kerouac school of disembodied poetics at the buddhist-inspired naropa institute in boulder/colorado, where she continues to teach. director of the naropa study abroad program in bali. recipient of the shelley memorial award for poetry. star of the us-poetry-performance-scene. long time student of buddhism. author of more than 40 books of poetry and editor of many anthologies of poetry and poetics. she currently works on several video/movie projects.
anne waldman lives in boulder/colorado and new york city.
"makeup on empty space" (1984), "helping the dreamer" (1989), "kill or cure" (1994), "iovis I & II" (1993/1996), "fast speaking woman" (1996), "songs of the sons and daughters of buddha" (trans. with andrew schelling, 1996), "disembodied poetics: annals of the jack kerouac school" (co-editor, 1995), editor of "the beat book" (1996), a. o.
link:
jack kerouac school of disembodied poetics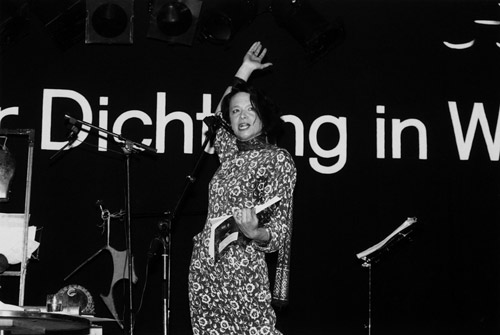 © sfd / angelika krinzinger (1992)