welcome to the KALEVALA DANCEBOX !
COME AND DANCE TO THE KALEVALA SOUND *
location:
arsenal, ghegastraße, objekt 19, 1030 wien
c/o ImPulsTanz workshops
opening times:
july 17th to august 6th 2006, daily 16:00 to 19:00
registration mode:
first
log in
and get your
authentication code
then register with your code at the entrance of the kalevala dancebox.
all contributions will be showed on this site commented by online teachers
1st week: july 17 - july 23: katherina zakravsky
2nd week: july 24 - july 30: miguel gutierrez
3rd week: july 31 - aug. 6: robert steijn
* finnish epic of 22.795 verses, remixed to 60sec by christian fennesz
the exercise
open the curtain. enter the "dancebox". follow the acoustic instructions. wait for the start of the kalevala sound clip (remix / christian fennesz). dance. you have
1 minute. your video clip will be saved to the kalevala website and commented online by dance professionals.
examples
clip editing by harriet nachtmann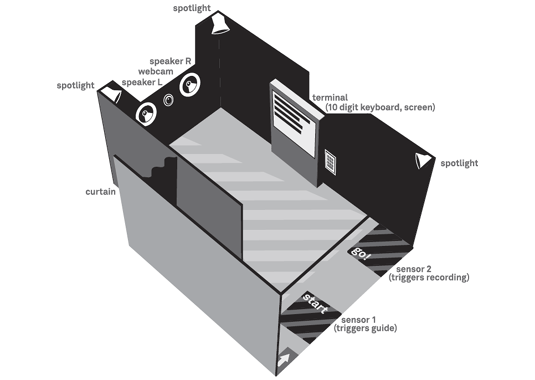 grafik: sfd / hans renzler
kalevala dancebox® - instructions
please enter your password at the terminal and go to the indicated dance position
step on the "go"button and wait 5 seconds until the kalevala sound begins
you have 60 seconds for your performance
when the time is over, you have the possibility to check your contribution
if you want to dance again, please step on the "go" button once more
if you want to save your contribution, just leave the dancebox and your performance will be online
all contributions will be commented upon by an online dance teacher you can watch the contributions at www.ImPulsTanz.com/kalevala or at www.sfd.at/kalevala
in the festival lounge ("rote bar") there will be an installation showing your performances (august). selected pieces will also be shown in prague on the occasion of a meeting of the "european network of creative writing programmes" (november) & at the leipzig opera on the occasion of an international performance and installation session (december).
organised by
ImPulsTanz - Vienna International Dance Festival and vienna poetry academy
credits
programming
adm™ o.kipcak & partner gmbh graz, wien
orhan kipcak (concept)
anika kronberger (design web)
hannes raggam (programming internetclass and interfaces)
daniel fabry (technical support)

implemented as part of the DESI project, supported by "impulsprogramm creativwirtschaft"
concept
rio rutzinger, christa spatt, ide hintze, orhan kipcak,
harriet nachtmann, antonia vasiloiu
sound
christian fennesz, austrian electronic composer, created the 60 sec clip for the kalevala dancebox.
vocals: heini lehtonen